This week repairs began on Historic St. Patrick's steeple thanks to a dedicated parishioner who left millions of dollars to the downtown church.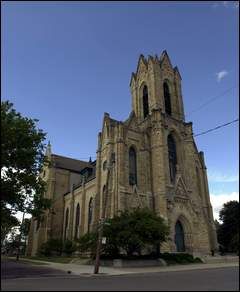 The steeple was destroyed by fire in September, 1980, when it was struck by lightning. Parishioner Margaret Hays Tank wanted the church to rebuild the steeple. Now the wish of Mrs. Tank is finally being realized because the church and four other Catholic institutions will benefit from a $6.5 million estate that Mrs. Tank and her late husband, Dr. Reynold Tank, left in their will.
The will stipulates that the bulk of the couple's estate is to be equally shared by St. Patrick's, the Sisters of the Oblates of Mary Immaculate, the Sisters of St. Francis in Sylvania, St. John's Jesuit High School, and St. Louis University, which was Dr. Tank's alma mater.
The diocese contracted in 2001 with a cellular phone company to restore the spire and install transmitters for cellular phones inside it. However, a few years later the firm bailed out of the deal that would have restored the tower, complete with four smaller "cricket" spires, to its original height of 240 feet.
This week I observed workers utilizing cranes attending to the steeple. In addition I seen a report on WTVG reporting that the steeple should be replaced to its original height and adorned with a gold colored cross in a few month. It will be a refreshing addition to the Downtown Skyline wich went missing 27 years ago.
Then...today, this ironic story of a Church in Swanton from WTVG.
Church steeple destroyed by fire
August 16, 2007 - Mother Nature made her mark in Swanton last night. Lightning struck a Swanton church and flames shot through the steeple.
It happened early this morning at the Holy Place Church on Church Street and
Lincoln. That lightning strike had some people sitting straight up in bed. Others thought they heard gunshots. They were all surprised to see where it hit. That lightning strike was an early-morning alarm clock for people here. Firefighters had the fire out in about an hour, with most of the damage contained to the steeple. But, insulation smouldered inside, so portions of the steeple, including the bell, were removed so firefighters could get at the insulation.
Research information from WTOL, WTVG and MARK REITER, Blade Staff Writer for his post on Skyscrapercity.com